A Roundup of Latin American Wedding Traditions
"Felicitaciones!" You're getting married! We've got some great ideas from Latin America to help make your fiesta fabulous!
Hispanic/Latin Wedding Traditions

Spanish

Before the ceremony, a Spanish groom sometimes gives his Bride thirteen coins, symbolizing Christ and his 12 apostles.

The bride then carries them in a small bag during the ceremony as a sign that the groom has pledged his support and care of her.

Hispanic

As part of the wedding ceremony, thirteen gold coins, which represent the groom's dowry to his bride are blessed by the priest and then passed between the hands of the couple several times and then placed on the Bible.

A large rope or rosary is wound around the shoulders of the couple in a figure 8 to symbolize their union.

Massachusetts Wedding Ideas CLICK HERE

Boston's Best Bachelorette Party on the Bustonian Boston Party Bus!
"A DONDE CASARSE?" (WHERE TO MARRY?)
Choose a meaningful spot for your wedding. Look for a place that holds Latin-American significance, such as a cultural museum, an important church, a historical site, or a Latin-owned restaurant. Or look for a site with a Latin feel, like a Spanish mission, a hacienda, or even the tropical foliage in a local botanical garden. And don't forget about the decorations. Use brightly colored linens, flowers, and pottery. You can even hang "pinatas" from the ceiling.
At Puerto Rican weddings, a doll dressed in a bridal gown is placed at the head table.
"PARA LA NOVIA" (FOR THE BRIDE)
Trying to decide on your "vestido de bodas" (wedding dress)? For a subtle Latin feel consider wearing a dramatic mantilla veil, or a slim dress with a bolero jacket. Or look for a dress with Flamenco-style ruffles at the hem. Need something blue?
Brides in many Latin-American countries wear a light blue petticoat or slip beneath their dresses. White not your color? Well, in Spain, brides wear black dresses to show their devotion until death. Touches of red and black, for both bride and groom, also add a Latin touch. If this seems like too much for you to handle, consider dressing your wedding party in red and black.
"LA PROCESION" (THE PROCESSION)
Who's walking you down the aisle? At Argentinean weddings, the bride is escorted by her father. There are no bridesmaids or groomsmen, and only the couple's parents and godparents stand with them at the altar. Similarly, in Chile, only the parents stand at the altar with the couple.
"ARRAS" (COINS)
During Catholic ceremonies in Spain, Panama, and Mexico, the groom presents the bride with 13 gold coins, known as "Arras," to represent his ability to support the bride. The coins are blessed by the priest and passed through the hands of the newlyweds several times, ending up with the bride. Want to make the ritual a little more balanced? Consider giving each other coins, to symbolize shared responsibility.
"LOS ANILLOS" (THE RINGS)
Not everyone waits until their big day to get their wedding bands. In Chile, engaged couples wear rings on their right hand until they are married and switch to the left hand after the wedding. Argentinean couples also exchange rings when they get engaged.
"MADRINAS Y PADRINOS" (GODPARENTS)
Throughout Latin America, specially chosen godparents guide couples through their wedding ceremony. In Mexico, "madrinas" and "padrinos" serve as wedding sponsors, supporting the couple both financially and spiritually. In Bolivia and Equador, "compadres" or "compadrazgo" are chosen either at birth or marriage. They play a large role in the wedding, and continue to support the couple throughout their lives.
"ATE EL NUDO" (TIE THE KNOT)
In Guatemala, the couple binds themselves together during the ceremony with a silver rope. Mexican couples perform a similar ritual, where a rosary or white rope is wound around their shoulders in a figure eight to symbolize their union. While the couple is bound together, the priest may recite the following: "Let the union of binding together this rosary of the Blessed Virgin Mary be an inspiration to you both. Remember the holiness necessary to preserve your new family can only be obtained by mutual sacrifice and love."
"BEBIDAS" (DRINKS)
Time to celebrate! Have your bartender mix up a giant batch of sangria, a delicious punch made from a secret combination of wine, brandy, sugar, fruit, and seltzer. Or serve a selection of Latin-American cocktails. Consider the time-tested Cuban favorite, rum and Coke. Or serve "Caipirinha," a Brazilian potion of fresh lime juice, sugar, and sugar cane liquor. As for wine, Chile, Argentina, and Spain all produce excellent white, red, and sparkling wines. For non-alcoholic drinks, Mexican sodas come in a variety of tropical flavors, and "batidos" are popular fruit shakes made from fresh fruit, ice, and milk. And don't forget to serve some strong "cafe con leche" with your wedding cake.
"COMIDAS LATINAS" (LATIN FOOD)
For appetizers, try "pasteles," Puerto Rican meat patties, or "empanadas," Colombian pastries stuffed with meat and vegetables. Spanish "tapas" make perfect appetizers. These bite-sized morsels come in an astounding variety, such as pickles, olives, spicy veggies, cheeses, omelets, garlic shrimp, and chunks of grilled peasant bread. For real Latin-American flavor, set up stations of make-your-own fajitas and tacos. Other must-have dishes include rice and beans, paella, "arroz con pollo" (chicken with rice), "ropa vieja" (beef stew), and fried plantains (bananas). And for dessert? Flan, of course. This delicious custard made from milk, eggs, vanilla, and caramelized sugar is the perfect way to end the night. In Mexico, Panama, and throughout the Caribbean, traditional wedding cakes are made with nuts and dried fruit, then soaked in lots of rum. Ask local Spanish and Latino restaurants if they do catering, and you're on your way.
"BAILEMOS" (LET'S DANCE)
There is an endless variety of Latin music to choose from: salsa, merengue, mambo, flamenco, and samba, to name just a few. For a really dramatic first dance, take some tango lessons before your big day, and surprise your guests with a performance. Hire a Mexican mariachi group or Cuban big band to get everyone dancing. Before the dancing really begins at Mexican weddings, guests gather around the couple in a heart-shaped ring. Cuban weddings often include a money dance, in which each man who dances with the bride attaches money to her gown.
REGALOS (GIFTS)
In Puerto Rico, small favors, called "capias," are presented to the guests in a receiving line. They are made of feathers tied with ribbon and printed with the couple's names and wedding date. For your wedding, you can give guests little Mexican wedding cookies wrapped in tulle, Spanish fans, a volume of Pablo Neruda's love poems, or note cards with paintings by Frida Kahlo or Diego Rivera tied with ribbon. If you're up for it, the little bride and groom skeletons used during the Mexican holiday "Dia de los Muertos" (Day of the Dead, which is really a celebration of life) would be perfect favors.
"DONDE ESTAN?" (WHERE ARE THEY?)
Can't wait for the honeymoon to begin? Well, in Venezuela, it isn't uncommon for a couple to sneak away from their own reception. But no one gets upset once they discover the newlyweds are missing--it's actually considered good luck.

Robin Beth Schaer is a third-generation New Yorker. She has worked as a writer and editor for several newspapers, magazines and websites, and has taught literature and writing at Columbia University and Cooper Union. She was educated at Colgate University and Columbia University's School of the Arts. Her poems have been nominated for a Pushcart Prize, and have appeared in Rattapallax, Small Spiral Notebook, Denver Quarterly, and Guernica.

Special Thanks to Latin American Wedding Traditions Author: Robin Beth Schaer
Hispanic - Latino - Spanish - Latin American Links and Resources
Alianza Hispana
Provee a las comunidades de Roxbury y Dorchester con servicios linguisticos y culturales.
Roxbury, Dorchester

Candela Boston
"Boston's window into 'la vida latina'." Features a guide for newcomers, restaurant reviews and a forum.

Candela Magazine
"Boston's window into la vida latina. Features a Latino newcomers' guide, restaurant reviews, and an events calendar."

DJ's Latinos Record Pool and Mobile Services
DJ serivces for events; record pool for DJs. See what DJs are currently playing

Hispanic-American Chamber of Commerce

Inquilinos Boricuas en accion
Puerto Rican community-development group.

La Timba Loca
"Hot Cuban salsa of a style called timba."

LatinBoston.com
Guide to the hottest parties and events in and around the Boston area.

Latino Professional Network
More than 700 members in the Boston area.

Lindisima - The Point of Latin Beauty
Health and beauty products designed specifically for the Hispanic taste. Based in Milford.


www.pennersinc.com "Authentic" Guayaberas from Merida Great for Weddings!

Shipped from TX!

MamBostOn2.com
Only New England Web site dedicated to the world famous New York On 2 style of Salsa better know as Mambo.

Octavo Arte. Video Y Fotografia
Bodas, cumpleaños, reuniones sociales, culturales y deportivas. Video y fotografía profesional.

Padres al Dia
"Nuestra guía de la cuidad de Boston. Descubra los recursos y actividades que Boston nos ofrece. Programas para padres, clases para ninos, excursiones, servicios en su comunidad, etc."

Primer Noticiero en español de Boston
Noticiero local, nacional e internacional en español para Boston y alrededores.

Primera Iglesia Presbyteriana Hispana
455 Arborway.
Jamaica Plain

Salsa Boston
Calendar, club guide and reviews.

SpanishBoston.com
Local latino events listings, love pages, classifieds, Hispanic Business directory - and much more.

Transnational Villagers, The
Book: "Peggy Levitt explores the powerful familial, religious, and political connections that arise between Miraflores, a town in the Dominican Republic, and Jamaica Plain, a neighborhood in Boston and examines the ways in which these ties transform life in both the home and host country."
Jamaica Plain

WUNI-TV
Univision. Ch. 27.
Spain culture - Spanish Wedding Customs
Weddings in Spain
Weddings are big affairs in Spain and you're likely to find the whole extended family and entire village turns out to celebrate (expect at least 200 guests at traditional 'bodas').
Some of the customs are similar, such as throwing rice, but others are less familiar.

In line with most social events in Spain, most Spanish weddings start late (often the ceremony won't start until 7 p.m.) and finish very, very late (or early, depending on how you look at it).

At many weddings, the men will be offered a cigar and the women a little present
(usually something which looks and smells nice).
If you're not used to cigars, be careful-they can be pretty strong.

Spanish weddings can be quite noisy with plenty of loud firecrackers going off once the happy couple emerge from the church.

There is no best men and there are no speeches. Also, the groom's mother accompanies him down the aisle.

Finally, tread carefully. Those old churches look quaint but the floorboards on the aisles have had some serious wear over the centuries.
Nothing spoils a marriage more than an overweight foreigner going through the floorboards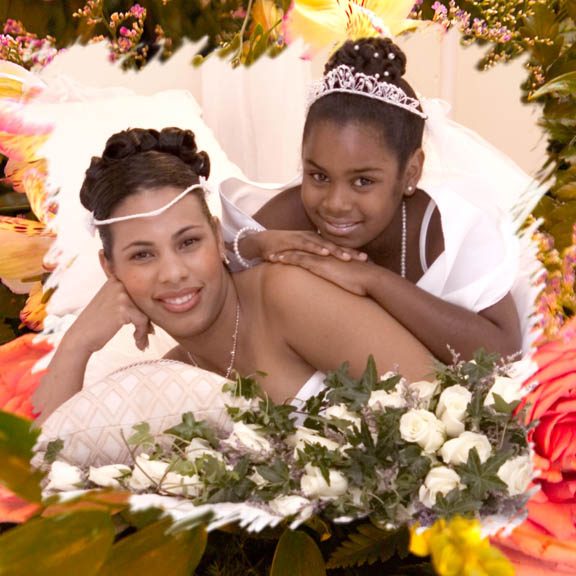 Engaged Brides & Grooms Subscribe Today! Every Issue Features Something New That Will Help You Make Your Special Day Stress Free and Memorable.
Home | Email | Advertise With Us | Boston Bridal Shows | MA Weddings | Wedding Services | DNC | BNN
All Content ©2010 Massachusetts Weddings & Boston Bridal Shows
website maintenance, hosting & design: Media Crush